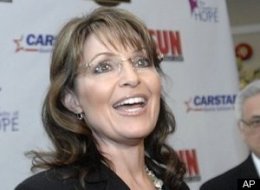 via
HuffPo
:
KNOXVILLE, Tenn. — A former college student charged with hacking Sarah Palin's e-mail account fears some jurors in heavily Republican East Tennessee could be dazzled when the conservative star testifies.

A jury of 12 and two alternates was seated Tuesday to hear the case against 22-year-old David Kernell. Prosecutors have not said when Palin will take the stand.

Kernell was a University of Tennessee student majoring in economics when prosecutors say he hacked into the Yahoo! account Palin sometimes used for state business. At the time she was Alaska's governor and the GOP candidate for vice president.

U.S. District Judge Thomas Phillips has denied a defense motion to have prospective jurors answer a questionnaire asking if they have strong political feelings about Palin. Kernell's attorney, Wade Davies, cited Palin's speaking slot at a tea party movement convention and frequent television appearances. She is hugely popular with conservatives.