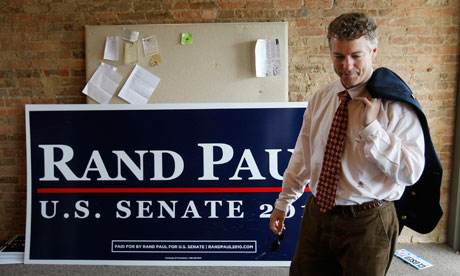 The woman who has caused much conversation about Senate candidate Rand Paul's college days is speaking out again. This time to clarify her account of a prank pulled at Baylor University 27 years ago. Greg Sargent scored an exclusive interview with said woman, who is now backpedaling on her original story:
The woman who sparked a national firestorm by recounting Rand Paul's
youthful indiscretions to GQ magazine is now clarifying her account: She says she was not kidnapped nor forced to do drugs by Paul.

But she reiterated other odd aspects of her earlier story, including her claim that Paul and another college friend blindfolded her, tied her up, and told her to smoke pot and worship the "Aqua Buddha," even if they didn't physically force her to do these things.

Read his full interview
here.