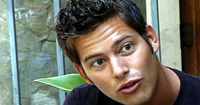 "The Real World" may have finally come to DC with its most recent season, but now a Real World veteran is hoping to make it to the Nation's Capital. MTV Real World alum, Sean Duffy, is looking to throw his hat into the Congressional ring. A member of the '97 Real World Boston cast, Duffy is running for office in Wisconsin's 7th District again Congressman David Obey.
Politics Daily
is blogging, "under normal circumstances, 37-year-old Duffy wouldn't have much of a chance. But in the post-Scott Brown world, conservatives are allowing themselves to think that in 2010, virtually anything is possible." Duffy also has gotten the
Sarah Palin
stamp of approval. Duffy is the district attorney for Ashland County, where he has been elected four times. He's also a lumberjack and a three-time 90-foot speed climb champion, an accomplished log-roller and ESPN commentator.Rep. Obey may want to think about learning how to roll some logs if he's going to compete.